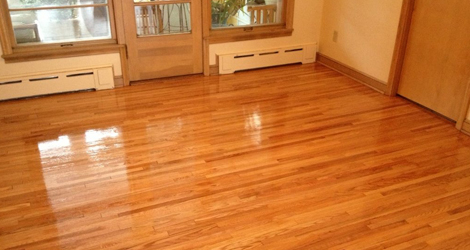 Hardwood floors are meant to add beauty and value to your home or office. Regular moving like foot traffic and irregular maintenance can lead to wear and tear that can ruin the beauty of hardwood. This is the reason by these floors needs to be refinished. Most of the homeowners ignore paying attention to these worthy investments and end up for floor polishing.
At Quality Hardwood Refinish, we are the Toronto's premiere hardwood polishing company that is dedicated to serve its clients with best services in the industry. Our professionals can help you in regaining the shine and luster your wood floors previously had with hardwood floor polishing. We are proudly serving clients in Toronto and suburbs with an unconditional 100% satisfaction.
How We Do It?
Since unfinished hardwood floors are difficult to clean, they are an ideal place for accumulation of dirt, bacteria and fungi deep inside. To deal with this issue, we provide professional hardwood polishing service that is suitable for all wooden floor categories. Our process includes:
Evaluation of wood flooring needs.
Thorough cleaning and mopping.
Elimination of dust and dirt.
Removal of stains and deep cleaning.
Buffing, waxing and polishing.
Treatment for discoloration & scratches.
Why Choose Us?
Our floor installers in Toronto, Mississauga,Vaughan, Richmond Hill, Aurora, Newmarket and Brampton strive to clean and polish the entire hardwood installation inside your home. With us, you can stay stress free, as being industry experts we ensure that the luster you'll receive after polishing the floor will be unbeatable. Our hardwood floor polish and waxing service is blended to restore and maintain the original looks of your wood floor. Some reasons to choose us include:
Little Downtime
Dustless Sanding
Odorless products
Eco-Friendly Finish
Insured & Licensed Crew
Use of Latest Equipments
Unbeatable Prices
Free Price Quote
100% Customer Satisfaction
Quality Service & Cleaning
If you are looking to polish the existing hardwood floors for elegant looks or want to install new hardwood floors, our experts are here to assist you. Call us today for a free estimate.