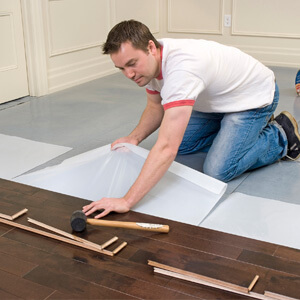 Hardwood flooring is a worthy investment that not offers beauty but also provides many extraordinary benefits. It is responsible for adding value to your premise, enhancing its visual appeal, raising the quality of life, upgrading your living space among many others. If you are thinking to give your interiors a natural and classic look, then hardwood floor installation is the best choice to go with.
At Quality Hardwood Refinish, we are a leading hardwood installation company in Toronto, Mississauga, Vaughan, Richmond Hill, Aurora, Newmarket and Brampton that has years of experience in the flooring industry. No matter, you need to install a brand new floor or replace the existing one, our professionals are here to serve you right away. We can help you realize the cost and benefits of wooden floors in a descriptive manner and if you do decide to work with us we promise you efficient and affordable installation.
Benefits of Hardwood Floors
Variety To ChooseCompared to tiles, hardwood floors offer a complete array of products to choose from. The wooden planks are available in many colors, styles, stains etc. ranging from unfinished, pre finished or fully finished wood floors.
Improved Air QualityIf you or any of your family member who is allergic to dust, pollen, microbes and other allergens, then hardwood floor is the optimal choice. Since it doesn't have any fibers and seams, the chances of dust trapping are less.
High Quality LooksYou can add warmth, coziness and more space inside your room by choosing to install hardwood floors. Since wood is believed to offer, elegant looks along with aesthetic appeals, the trend of wood will never go out of style.
Strength & DurabilityQuality hardwood floors are manufactured, installed and finished based on certain standards that allow these floors to last for generations. They are tough, hard and durable options that can actively last for many coming years.
Our Range of Hardwood Installation Services
Our expert floor installers at Quality Hardwood Refinish are highly trained and fully equipped to complete all the phases of your installation project in an effective manner. From removal of existing floor to installation of your base trim, we ensure that your installation project will be done right the very first time. Our services pertaining to flooring installation includes:
Hardwood floor replacement
Hardwood floor installation
Laminate wooden floors
Base trim and moldings
For more information about our hardwood flooring installation service, feel free to contact us today.