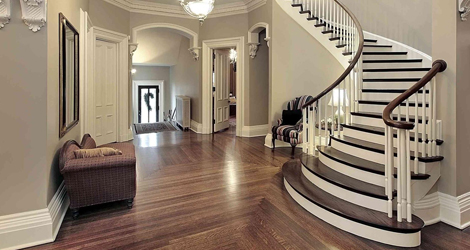 Your home's staircase is one of the focal point of attention that is generally noticed while entering inside. Hardwood staircase installation is responsible for adding both elegance and style to your boring stairs. If your existing solid wood staircase has become dull or scratched and has lost its previous luster, then its time to refinish it. Refinishing is a touch up project for your wood floors or stairs.
At Quality Hardwood Refinish, we are a locally owned and operated stair refinishing company that can sand and refinish your dull staircase to provide it brand new looks. With our unbeatable floor installation and refinishing service, we are proudly serving residential and commercial clients in Toronto, Mississauga, Vaughan, Aurora, Brampton, Richmond Hill and Newmarket. If you want to restore the beauty of hardwood stairs to its original aesthetics, we are the one you exactly need.
Our Hardwood Stair Refinishing Process
The ultimate reason homeowners opt for refinish service is to remove all light to medium scratches and surface dullness that persists with time. In order to enhance the beauty and elegance to its original essence, stair refinishing is an ideal way. No matter, its floor or stairs, the refinishing process is same. Since steps are small, the wooden planks used for installation are comparatively of a small size and require to be treated with more care.
Our floor refinishing experts in Toronto follow the following steps to deliver you stainless and scratch-less staircase.
Removing carpet or existing original finish.
Sanding down the wood to its bare state.
Smoothing and applying a coat of stain.
Applying multiple coats of polyurethane.
Removing imperfections with sandpaper.
Buffing the wood that has been stained.
What We Offer?
No matter, its home or office, stairs are subjected to experience the highest traffic that can compel them to wear over time. With our stair refinishing service, our professionals strive to induce new life to your old installation by applying fresh coat of paint or stain. It acts as an ideal choice to get rid of visible wear signs, blemishes, scratches or cracks. We Specialize in:
Repair & refinishing of hardwood stairs
Unfinished installation & stain finishing
Pre finished hardwood stair installation
Staircase refinishing
Our refinishing professionals at Quality Hardwood Refinish specialize in finishing, sanding, staining, refinishing and finishing of wooden stairs with polyurethane. Whenever you call us, we start working to find the perfect contractor for your project.